WELCOME TO P&D INDUSTRIAL
Your One Stop Industrial Tool Shop
OUR LATEST BARGAIN BUYS
Click on the image for the latest deals and promotions
P&D Industrial – Proud to be Local
Welcome to P&D Industrial
Proserpine & District Industrial is a 100% Australian owned family business specialising in fasteners, bearing & seals, welding equipment, power tools, hydraulics, air tools, hand tools, abrasives, cutting tools, engineering supplies, safety equipment, general hardware and much more. As you may be aware most industrial supply companies have a set product range, once outside that range you're on your own! It's P&D Industrial's policy to supply a service not just a range. 
If we haven't got it, we will get it!
P&D Industrial has been servicing the district for over 20 years supplying local industries including farming, earth-moving, cane, quarries, local council and home handymen with the equipment they require to get the machine going or to get the job done.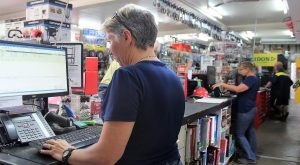 Sales & Service
At P&D Industrial Services we are committed to providing you with the supplies you need to keep your industrial operations running smoothly. We stock nuts and bolts, abrasives, adhesives, self-drilling screws and fasteners, as well as tractor and trailer parts.  An extensive range of tools from leading brands are also offered at our store and we stock hydraulic equipment for a host of industrial, earth-moving and agricultural applications.
If we don't have the specific industrial supplies you need in stock, we are happy to source it for you.
Call us today on 4945 5233
or email sales@pdindustrial.com.au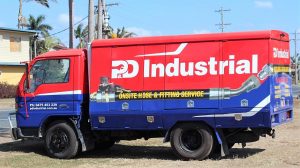 Mobile Response Unit
P&D Industrial operates a mobile response unit with qualified technicians servicing all earth-moving, industrial and agricultural needs in the Whitsundays. We provide a professional and reliable service 24 hours and day, 7 days a week.  If your equipment is broken down or you need work carried out in the field, we can come to you.
Call us on 0475 453 239 anytime!
24 hours a day, 7 days a week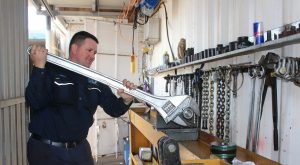 Repairs
We are a dedicated team of professionals with a combined 50+ years of knowledge and experience and are here to provide whatever assistance you may need, both before and after the sales of our tools.  We also specialise in the repair of air compressors, generators, hydraulic systems and small engines.
Have a question?  Got a problem?
Contact us now to discuss your needs
(07) 4945 3233 |  0475 453 239
Abrasives
Grinding Wheels, Cutting Wheels, Sanding Discs, Linishing Belts, Mounted Points, Emery Rolls, Wet & Dry Paper, Flap Discs, Flap Wheels, Scotchbrite Products.
Fasteners
Nuts & Bolts, Imperial & Metric, Mild Steel, High Tensile, Structural, Stainless Steel, Brass, Socket Screws, Metal Thread Screws, Self Tapping Screws, Threaded Rod, Washers, Masonary Anchors, Blind Rivets, Tek Screws and many more.
General Lines
Air Compressors, Air Line & Fittings, Chucks, Loctite, Wire Brushes, Hand Cleaners, Oil Cans, Saw Blades, Springs, Grease Nipples, Vee Belts & Pulleys, Padlocks, Ladders, Machine Oils, Cutting Compounds, Tape, Castors, Silastic, Machinery, Vices, Toolboxes, Key Steel and everything else.
Hand Tools
Kincrome, Stanley, Eclipse, Lufki, Record, Toledo, Knipex, Stabila, Trojan, Cyclone, Rigid, Solar and KC Tools
Lifting Equipment
Lifting Chains, Lifting Hooks, Web Slings, Repairs, Ratchet Tie Downs, Ropes, Pulleys, Transport Chains.
Power Tools
We stock Milwaukee, Metabo, De-Walt plus many other brands.
Pneumatic Equipment
For all your pneumatic equipment and supplies
Safety Equipment
See us for all your work safety gear such as Safety Glasses, Goggles, Overalls, Respirators, Earplugs, Protective Clothing
Spray Equipment
Get the most out of your garden or farm with safe and reliable spray equipment.  Suitable for use with all spray types – any task can be tackled.
With the broad range of sprayers, pumps and accessories available you'll find the right spray system for your needs at P&D Industrial